In an effort to honor the courageous individuals that have fought breast cancer, several drivers and teams, including Blake Koch and LeafFilter Racing, will be showing their support by driving cars with 'pink' themed paint schemes at Charlotte Motor Speedway at the upcoming NASCAR XFINITY Race "Drive for the Cure 300" on Friday, October 9th, 2015.
Blake Koch will be piloting the No. 8 LeafFilter Gutter Protection Toyota Camry, which will debut a special pink-leaf paint scheme. Additionally, the names of LeafFilter employees and family members that have fought breast cancer will be featured on the side of the Camry.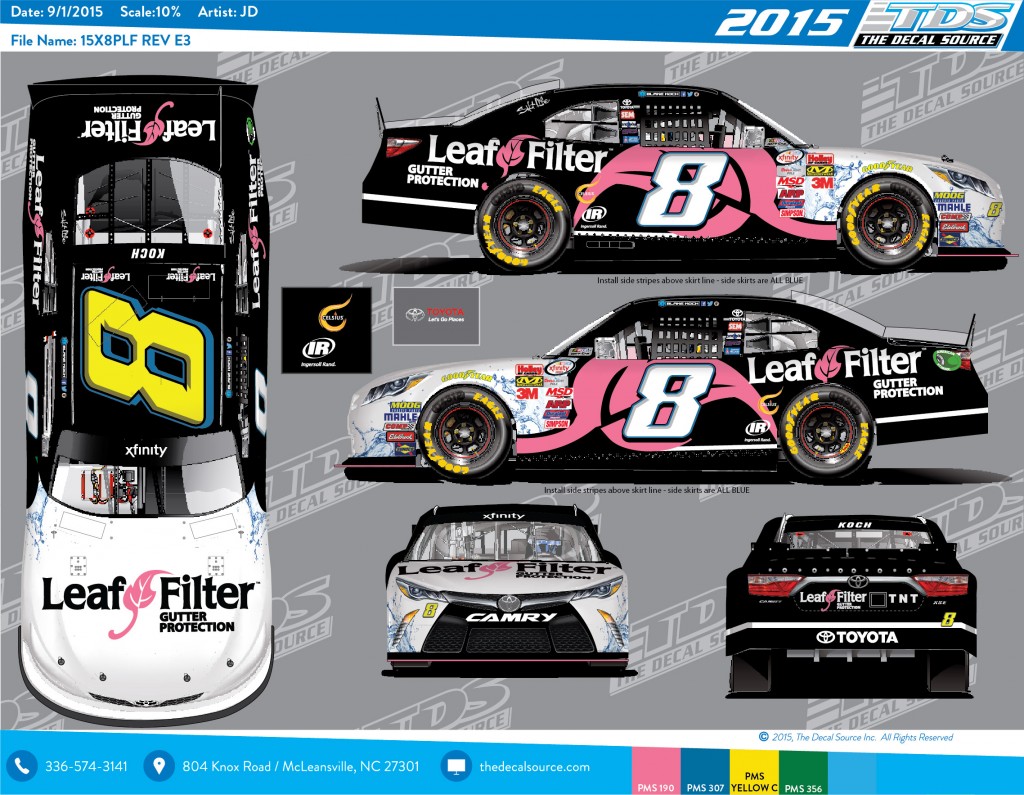 "This is a big deal for me, that LeafFilter is going pink," said Blake Koch, driver of the No. 8 LeafFilter Gutter Protection Camry. "My mom is a breast cancer survivor, so it really hits close to home for me."
According to the American Cancer Society, more than 231,000 women will be diagnosed with breast cancer this year alone. However, with early detection, experts say there is a 98% survival rate for those affected by the disease.
To commemorate the start of Breast Cancer Awareness month, Blake and his mother join other NASCAR drivers, survivors, and supporters at Charlotte Motor Speedway to help "Paint the Wall Pink" on Wednesday, September 30th. Over 6,000 square feet of the final stretch at CMS will be painted pink as part of this annual event. In addition, LeafFilter Racing and Blake Koch will present the pink-leaf paint scheme for the No. 8 Leaf Filter Gutter Protection Toyota Camry on this day. Blake will also be giving pace car rides to breast cancer survivors and honorary guests.
"The LeafFilter Team is like one big family and we are proud to honor our employees and their family members that have fought this disease. During the Drive for the Cure 300 race, and throughout the month of October, we hope to be able to draw more awareness to breast cancer," said Matt Kaulig, Owner and President of LeafFilter Gutter Protection.
The Drive for the Cure 300 presented by Blue Cross Blue Shield of North Carolina will be televised nationally from Charlotte Motor Speedway on Friday, October 9th, 2015 at 8:00 PM EST on NBC Sport's Network.
About LeafFilter and LeafFilter Racing
LeafFilter Gutter Protection is a micromesh gutter protection system that installs on existing gutters and prevents debris from entering and clogging gutters. By keeping gutters clog-free, homeowners can prevent serious and costly issues to their home. LeafFilter is the #1 rated gutter protection system in the nation.
LeafFilter proudly sponsors Blake Koch and the No. 8 LeafFilter Gutter Protection Toyota Camry for the NASCAR XFINITY Series. Stay up to date with LeafFilter Racing on Facebook and Twitter.