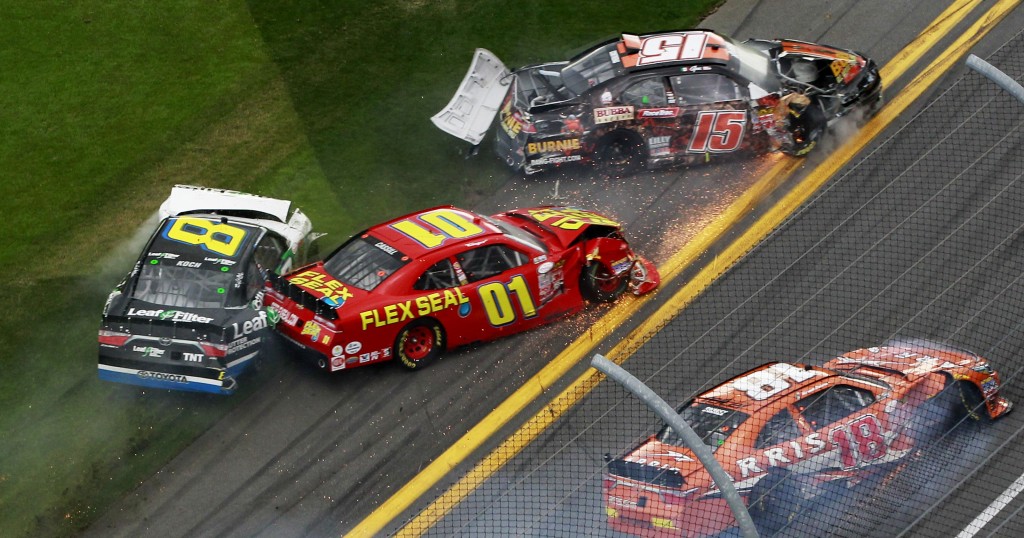 Jay Pennell
FOX Sports
Daytona International Speedway (Feb 21, 2015)
NASCAR's new group qualifying format took another hit Saturday afternoon when a wreck in the tri-oval collected five cars before the start of the season-opening race for the NASCAR Xfinity Series.
The incident occurred with Group 2 of Round 1, when Joe Gibbs Racing rookie Daniel Suarez attempted to make a move up the track going into the Daytona International Speedway tri-oval. With two cars to his outside, Suarez made contact with the No. 8 of Blake Koch, and then shot down into the No. 15 of Carlos Contreras.
The contact sent Contreras hard into the outside wall, destroying his car and clogging the racing line. Also collected in the incident were Harrison Rhodes and Tanner Berryhill.
"It's the same for everyone, it's something different, and everyone is still trying to figure it out," Suarez said of the new qualifying format. "We had a pretty good run and some of the slow cars started to slow down a lot and I got a run and then I ran out of room and I wrecked. Just bad luck. I believe that this luck is OK in the second part of the race, but in qualifying, this is not a moment to wrecking. The only thing we can gain is more work, or wreck, or gain a few more positions."
After watching the wreck from pit road, Suarez's teammate, Kyle Busch, sarcastically clapped and expressed his frustration with the qualifying format.
"I could say a lot of things and get myself in a lot of trouble," Busch told FOX Sports 1. "I'll just say this is not what we all intended and this is not the plan. This is not what it needs to be. Somehow, some way, this just isn't right. We have a bunch of torn-up race cars, which we shouldn't be doing in qualifying. … This just ain't right."
Fellow Sprint Cup regular Brad Keselowski expressed similar frustrations with the qualifying format.
"You just don't want to see cars wrecking in qualifying," Keselowski told FOX Sports 1. "The show is the race, so we don't want to lose sight of that. But we've got a lot of people watching at home, and want to give them the best product to watch. Just trying to find the balance, right?"
After the incident, rain at Daytona temporarily halted the group qualifying session. Saturday's Xfinity Series opener is slated to start at 3:30 p.m. ET on FOX Sports 1.
This article originally appeared on FOX Sports and can be found here.
Follow LeafFilter Racing on Social Media: