(This post features live blog posts from 3/14/2015)
3/14 6:06 PM
There's the checkered flag. Joey Logano hung on for 1st place. LeafFilter Racing's Blake Koch improved throughout the race and finished 25th. We'll see you next week at the Auto Club Speedway.
Make it a great week!
3/14 6:03 PM
Advanced to 25th. This is a new car following the crash in Vegas. With a starting goal of finishing top 20 there's only a few laps left to overtake a few more spots.
3/14 6:00 PM
12 to go. Blake Koch still locked in the 26 spot.
3/14 5:55 PM
Blake is currently running 26th.
3/14 5:35 PM
Fortunate that no one hit Chase Elliot on that spin out. Under yellow and a chance for drivers to get 4 fresh ones to finish. #9 is really lucky to still be racing today.
58 to go.
3/14 5:25 PM
A wide mix of pit strategies. This should be interesting to see how the final 1/3 of the race plays out.
3/14 5:24 PM
75 to go under caution. In for a pit.
3/14 5:20 PM
If you're like me, you might be saying, "gosh, this Axalta Faster. Brighter. Smoother. 200 is great (full disclosure, that is a 100% guess at their race tagline) but what can Axalta do for me?"  Per their worldwide website they are "a leading global company focused solely on coatings and providing customers with innovative, colorful, beautiful and sustainable solutions."
There you go. You need a colorful, beautiful coating…check em out.
3/14 5:15 PM
Interesting comments that leader Logano may not be pitting the rest of the day. Slower speeds and a couple of Yellows and he may have enough in the tank to finish without another pit.
3/14 5:11 pm
Eager to see how the car responds after that last pit. Just past the halfway point with two pits in and all crews should have a set of tires left for one more pit.
3/14 5:03 PM
Do you like hats? What about a Blake Koch autographed hat? Well, well. Winner winner chicken dinner. Head on over to this link for a chance to win your very own (not a co-op) Blake Koch autographed hat! Enter here.
3/14 5:00 PM
Blake Koch, Crew Chief Bruce Cook and the rest of the Crew (aka The Wolf Pack) drove from Vegas to Phoenix earlier this week. Enjoy a couple of shots from their road trip.
3/14 4:50 PM
Blake has improved 3 spots since the last pit. Looking for a top 20 finish today…there's plenty of racing left in the day.
3/14 4:47 PM
Logano is running super fast today. You know what else is fast??? Getting an estimate from LeafFilter (here comes the sponsor plug). It takes about 15 minutes to get an estimate and we can typically install the next day. Learn more and request your free estimate – good for one year – at www.leaffilter.com.
3/14 4:45 PM
Blake opted for 4 fresh tires coming out of the first pit stop.
3/14 4:35 PM
Commercial break. Take a break and see how Blake spent week 3 prepping for Vegas Motor Speedway. The week 4 behind the scenes will be live tomorrow!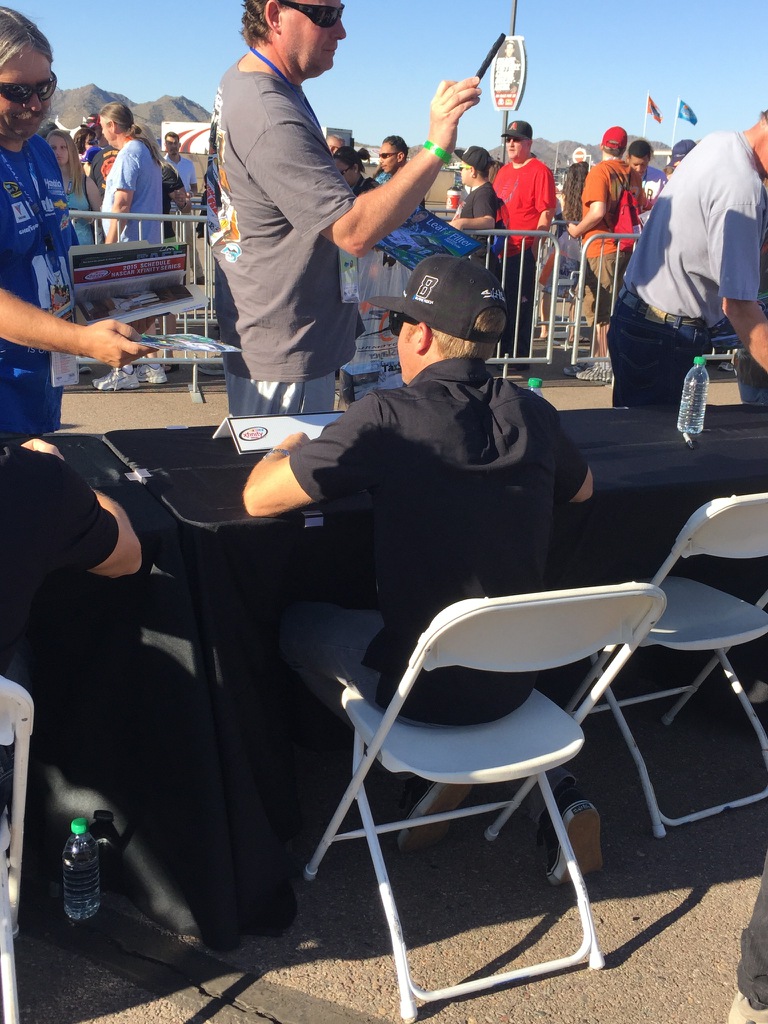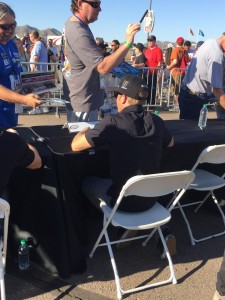 3/14 4:20 PM
A little flash back to this morning when Blake Koch met with fans for an autograph session before qualifying.
3/14 4:15 PM
We are underway with the "Axalta Faster. Tougher. Brighter. 200". These guys clearly like to use excessive punctuation. Let's. Go. Blake. Drive. Fast.
3/14 4:00 PM
Another beautiful national anthem. We're minutes away from 200 miles of racing in the dessert. Tune in live on Fox (or Fox Sports 1…check your local listings). Go Blake!
3/14 1:30 PM
Qualifying is a wrap. Blake Koch will be starting in the 19th spot today. We'll see you at 4:00 PM eastern!
3/14 12:45 PM
Qualifying is underway on Fox Sports 1. Blake is currently in 18th as we near the end of the 1st round of qualifying.
3/13 4:30 PM
Tie your shoes and hold on tight – big time tech announcement. You now have access to FOX Sports 1 on the go with FOX Sports GO, available on most iOS, Android and Windows devices! Download the app today or click here to watch on your computer.
3/13 4:00 PM

We are ready to go! Tune in to Fox Sports 1 at 4:30 PM today to watch Blake Koch and the #8 Toyota Camry in practice for this weekend's XFINITY Series "Axalta Faster. Tougher. Brighter. 200".
We'll be live blogging about the race and Blake Koch from this page on Saturday the 14th starting at 4:00 PM.
Follow LeafFilter Racing on Social Media: